April Showers bring May (and June?) Flowers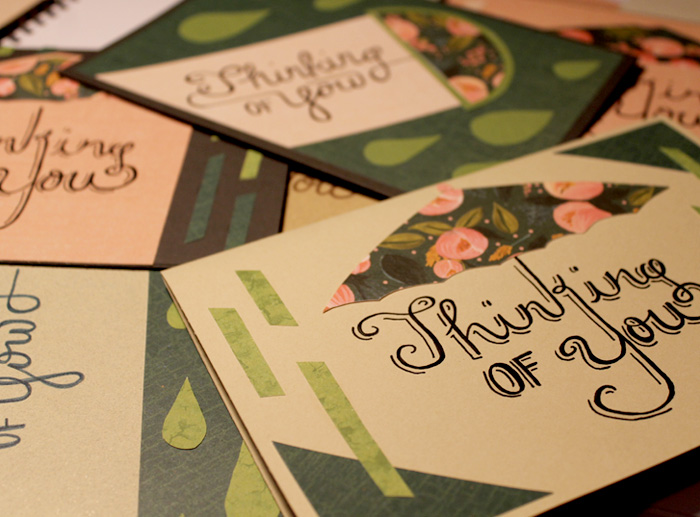 As I mentioned in my previous post, I've been making 6–8 hand-made "Thinking of You" cards each month for a local hospice to give to their patients' families. I love the feeling of being assigned something artsy like this to do, and I love hoping that each card might brighten a stranger's day.
I've been so busy the past couple of months changing jobs, that I've missed my goal of posting something on this blog each month, unfortunately! Therefore, today I'm going to share a collection of my favorite cards I've made for April, May, and June – because April showers bring May and June flowers, right?
On the April cards, I had fun combining paper textures and hand-lettering to create these little rainy scenes. I was excited to use this new floral scrap-booking paper that my friend got me, and it turned out to be just what I needed for umbrellas. I've been trying to do more hand-lettering here and there, so this was a good opportunity to practice that. I'm happy with how they turned out!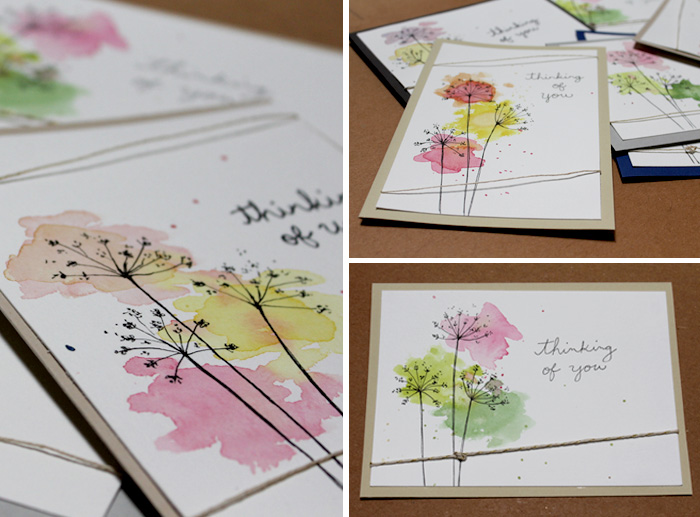 In May, I was excited to finally try out some summery ideas I've had for a while. I've seen such nice watercolor treatment with ink flowers on Pinterest, so I tried to get that look in these cards. I just made simple splashes of color, waited a day for them to dry completely, and then inked simple flowers on top. As a finishing touch, I put a piece of string or two on top to give it some depth.
I was so happy with the way these turned out, that I did the same treatment on my cards for June. I like to think that I'm getting better at these every month, and now I'm hopefully back on track to post something new at least once a month.
Happy Summer!